The Mysterious I. D. Vide in Newton's Nemesis
A math mystery comic book series designed for children struggling to learn fractions. The story weaves together puzzles that explain why fraction multiplication and division works with inspirational moments to reassure children that struggling means they are learning. If you're not struggling, your brain is bored!
The Story
Who is the Mysterious I. D. Vide? A witch? A sorceress? An alien?  Theo wasn't sure.  He was only certain that she lived in a creepy house next to a small puppy named Newton, and he overheard her talking about a spell.  Join Theo and his friends as they try to solve the math mystery that I. D. Vide crafts for the trio.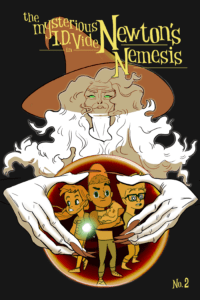 Learn more about the Artist & Author
Our hometown paper, the Columbus Ledger Enquirer learned about our project to help children in low income schools who struggle with math.
Resources for Parents & Teachers
Games, puzzles and mazes!! Throw in some great math journal prompts and Newton's Nemesis becomes a week-long teaching unit that connects literature, history, geography and more.
Learn More